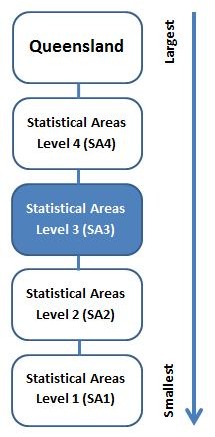 Statistical area level 3 (SA3) is one of the spatial units defined under the Australian Statistical Geography Standard (ASGS).
The ASGS is a hierarchical geographical classification, defined by the Australian Bureau of Statistics (ABS), which is used in the collection and dissemination of official statistics. The ASGS provides a common framework of statistical geography and thereby enables the production of statistics which are comparable and can be spatially integrated. This is the third edition (ASGS 2021), which updates the second edition (ASGS 2016).
The table below provides individual maps for each of the 82 SA3s within Queensland in a pdf format.
Last reviewed